Date/Time
Date(s) - Oct 9 2014
8:30 AM - 11:30 AM
Location
Smith & Gesteland
Category(ies)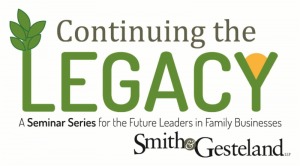 Continuing the Legacy Seminar Series for the Emerging Leaders in Family Businesses
Series One
2014  – 2015
This is our ENCORE of the first highly successful Seminar Series for Emerging Business Leaders. Feedback and input from our first class has helped us focus our offerings with the things that matter most to future leaders in their family's businesses.
In our work with Family Businesses, we help the emerging leaders understand some business fundamentals. They may know all about their family's business, but lack knowledge of some business basics required to run an enterprise. Accounting/Finance, goal setting, Human Resources, and Marketing and Sales.
The series consists of FOUR SESSIONS. Participants are encouraged to attend all four as they are linked with a common theme.
1) October 9, 2014 – Financial management
2) December 11, 2014 – 80/20 and goal settings
3) March 5, 2015 – Human resources and people
4) June 4, 2015 – Marketing and sales 
COST: The cost for the series is $400. We encourage you to attend all four sessions. Please contact Julie Bogle if you have questions at Julie.Bogle@sgcpa.com.
CLICK HERE for details and to register.
All sessions will be held at our Middleton office at 8383 Greenway Blvd, Suite 500.
Sessions run from 8:30 am to 11:30 am.
Sessions will be followed by an optional lunch discussion.