Date/Time
Date(s) - Jan 9 2014
8:00 AM - 11:30 AM
Location
Smith & Gesteland
Category(ies)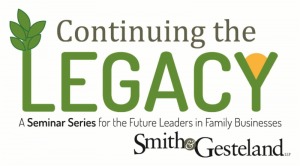 From its inception, Smith & Gesteland has focused its services on the unique issues faced by the owners of family businesses.
Proprietors of such closely-held businesses often turn to us and our decades of expertise for assistance in training their future leaders. Before these up-and coming leaders can successfully transition into business owners, they must be given the opportunity to develop the requisite knowledge and skill required to successfully handle the numerous issues that family businesses face in the modern economy.
This series of workshops is designed to expose future leaders to the most important issues facing the management of a family business. The workshops will cover accounting-related issues such as how to read and understand financial statements, as well as marketing, human resources and strategic goal setting. In addition to providing substantive training on business issues, theseworkshops are designed to bring together a diverse group of future leaders of various family businesses to allow for idea sharing, network building, and learning in a collaborative environment.
Each session runs from 8:00 a.m. until 11:30 a.m. and is held at Smith & Gesteland's office in Middleton.
January 9, 2014 80/20 AND GOAL SETTING
Goal setting
Segmentation: how to do it and why
Financial management tools of world-class companies
Learn how you can simplify, focus, and grow your business
Upcoming Sessions:
March 27, 2014 HUMAN RESOURCES AND PEOPLE
Job descriptions
Performance reviews
Recruiting and termination
Policies and procedures manual
Employee benefits and retirement plans
Wage and hour law
June 5, 2014 MARKETING AND SALES
Competitive matrix
Value proposition/value statement
Build the infrastructure
The sales process